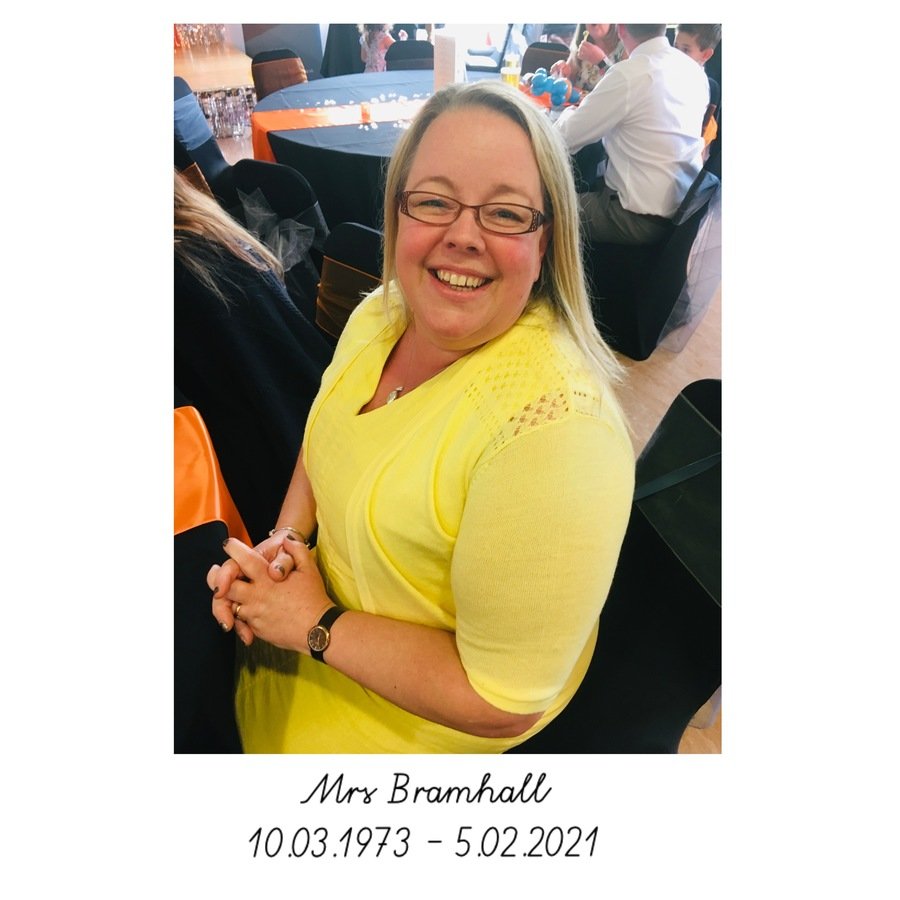 Celebrating Mrs Bramhall
Mrs Julie Bramhall, our beloved teacher and Assistant Principal, passed away on Friday 5th February. Mrs Bramhall has worked at our school for over 15 years and been part of Abram community for so many, many more. Mrs Bramhall is an amazing teacher with an infectious love of reading and she has made such a difference to so many children, families and colleagues lives. From her legendary Low Bank Ground residential, music obsession, passion for learning and children's special library, to her listening ear and caring soul, our school and Abram community grieves this immense loss. If you would like to send a message that will be placed in the school memory book, please comment below.
Comments (36)
Show Comments
Helen Lowrie Marshall
(less than a week ago)
Afterglow I'd like the memory of me to be a happy one. I'd like to leave an afterglow of smiles when life is done. I'd like to leave an echo whispering softly down the ways, Of happy times and laughing times and bright and sunny days. I'd like the tears of those who grieve, to dry before the sun; Of happy memories that I leave when life is done.
From WIGAN National Education Union
(less than a week ago)
Mrs Bramhall was a truly great teacher and educator in every sense of the word; to her children, family, school and community. She will be missed in so many ways by so many people. Heartfelt sympathy and condolences to you all.
Anonymous
(less than a week ago)
Julie, you will be missed greatly. The SLE sessions (complete with brwa to the CEPQH training events
Anonymous
(less than a week ago)
Thinking of all family and friends at this sad time. Mrs Bramhall will be sadly missed.
Parent
(less than a week ago)
Our thoughts and prayers are with Mrs Bramhall's family and friends . Good memories of a kind supportive teacher /deputy head. Four years ago supported my son Lewis through his SATS , nothing was too much trouble . A great deputy head to Eva currently at the school . Mrs Bramhall will be greatly missed .
from chloe booth
(less than a week ago)
I love reading like you loved it when you let me borrow an use your books .Great teacher you will be missed by everyone.
Love Imogen, Harley, Tyler & family
(less than a week ago)
Rest In peace Mrs Bramhall. You was a really lovely lady and you have been taken way too soon. Fly high. Heaven has well and truely gained an angel!
Janet Whittle, Luke and Matthew Worswicks Grandmother
(less than a week ago)
Goodnight and God Bless Mrs. Bramhall.. a fantastic teacher and a lovely person that was kind and helpful to everyone . Your kind, bright smile will be missed by everyone.
Parent
(less than a week ago)
Well Mrs Bramhall, where do I start? You were an absolutely beautiful soul, what you did for Chloe-Ella will never be forgotten, me and my family cannot thank you enough. You supported us all and nothing was ever too much, Mason looks back on his time at low bank ground and says you made the trip memorable and Made him feel safe ( his first time away from home ) Lily will remember your infectious smile and how you looked after her big sister and supported them on bad days. Keira didn't no you long but I'm so glad she had the privilege to meet you, You truly are an angel. We really will miss you Mrs B xxxx
Taylor family.
(less than a week ago)
My first ever encounter with Mrs Bramhall was when she contacted myself regarding my son winning the pupil performance awards. She had such lovely words to say and such a lovely presence. I know some knew her for many years, pupils and parents alike and she will be deeply missed by both St. John's and The Abram community.
Show More Comments