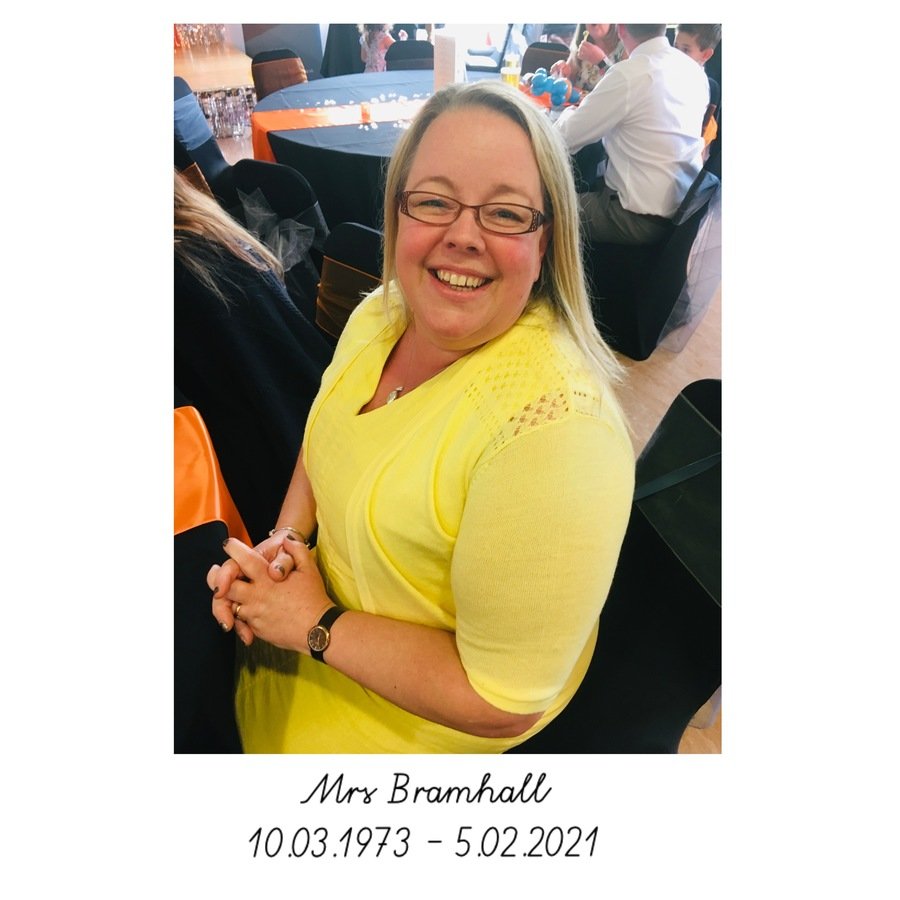 Celebrating Mrs Bramhall
Mrs Julie Bramhall, our beloved teacher and Assistant Principal, passed away on Friday 5th February. Mrs Bramhall has worked at our school for over 15 years and been part of Abram community for so many, many more. Mrs Bramhall is an amazing teacher with an infectious love of reading and she has made such a difference to so many children, families and colleagues lives. From her legendary Low Bank Ground residential, music obsession, passion for learning and children's special library, to her listening ear and caring soul, our school and Abram community grieves this immense loss. If you would like to send a message that will be placed in the school memory book, please comment below.
Comments (60)
Show Comments
rose
(less than a year ago)
thank you for giving me a lovely start into that school and thank u for making me feel welcome when i first started rest in peace
Anne Egan
(about a year ago)
It was a pleasure to work with Julie for many years. She was a brilliant, caring, enthusiastic and hard working teacher. Always willing to help in any way. My thoughts and prayers go out to Carl, Kammalah and Tegan. She will be missed. God Bless.
Dominic keegan & Emily keegan
(about a year ago)
Thank you Mrs Bramhall for all your help and support with me and my family, we are going to miss you loads at our school. Now your with God dancing in your brightly colour clothes.
Mel Pilkington
(about a year ago)
Thankyou for being such an amazing teacher. I loved every minute of your lessons, I will always remember your favourite number 21 (your age) and that books with pictures paint a 1000 words. Thankyou so much, we will all miss you x love to your family. Goodbye and Goodnight, Mel, Niffa & Stuart Pilkington x
Debbie Sudworth
(about a year ago)
Julie was an amazing friend and colleague she was so supportive, encouraging and full of wisdom. I really enjoyed our chats she would fill me with knowledge and would always offered advice. She was a fantastic teacher to many children. I am so priviliged and proud to have worked with her and got to know her. For all her advice, support, friendship and encouragement I thank her massivley. Shine bright always Julie like the true star you are xxx
Karen Wilkie
(about a year ago)
Both Abigail and Josh have fantastic memories of being taught by Mrs Bramhall, she was an amazing teacher who inspired them with a love of reading and of adventure on the trips to Low Bank Ground. She was a wonderful lady who touched many lives and will be greatly missed by our family. God bless you Julie xx
Danielle Jackson 2016 leaver
(about a year ago)
It's been 5 years since I left primary school . My dad was the dj at all the party and formed a really good friendship with Mrs bramhall she was such an inspiration to many . I have so many memories like low back ground ,let's sing and many more I remember she made us all good luck card when we was doing our sats she loved to sing . Mrs bramhall believed in all her students she has made me the person I am today she taught me never to give up and believe in yourself she will be sadly missed by many
Sheila Davidson
(about a year ago)
Rest in Peace Julie, your work on earth is done xx
Shannon fisher
(about a year ago)
Where do I begin, I went to school when I was younger, and Mrs bramhall (Julie) helped me so much in year 6, I left primary in 2012,and I remember her writing on my leavers shirt "don't be a stranger" well that all changed, she then went onto teaching my brother Owen, who now in year 7 and my other brother Kyle who's in year 4/5. Julie was incredible and so inspirational and Julie would always put the children first, gone but never forgotten and I will never forget the memories I had with her and the things when I left school I still have and will cherish them forever! Julie one last thing you were simply the best! ❤️❤️
Abbie hesketh
(about a year ago)
Mrs bramhall was my year six teacher 2015-2016 she encouraged me to go to low bank ground even if i was scared and I'm glad she did as I loved every second I remember her describing me as a Duracell bunny whilst I was at low bank ground I will never forget her she made me the person I am RIP Mrs bramhall
Show More Comments